Stand in Support of Essential Reproductive Health Care for Women!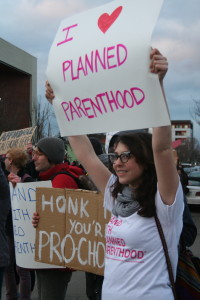 Roe v. Wade is the law of the land, and Friday, January 22 marks the 43rd anniversary. Please do what you can to support access to abortion care – essential healthcare for women – by coming out to rallies, blogging, posting or tweeting about it.
Too many lawmakers (the vast majority of whom will never have the experience of pregnancy) have decided that Roe should be dismantled, and in state legislatures across the country these people, driven by an extremist anti-abortion agenda, are working – and succeeding – to do just that. At the national level, Planned Parenthood, the country's most trusted healthcare provider to women, has been the target of a relentless smear campaign. The US House has passed abortion bans at every opportunity, and there are people around this country who believe deeply bans will miraculously end abortion. But they won't. There will always be a need for abortion care for women of reproductive age. Pregnancies don't always go as planned, and birth control doesn't always work. Women need to be in charge of the number and spacing of their children. It really is that simple.
Please stand in support of Roe on Friday with Pennsylvania NOW, Planned Parenthood, Women's Law Project, Women's Way and other groups, as well as the doctors and nurses who work every day to ensure women have access to safe and legal abortion care. These health care providers are increasingly under threat of harassment and violence.
Find out more at https://www.facebook.com/events/1058040207592011/