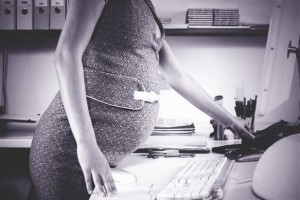 Join advocates on Thursday, October 8th at the Capitol in Harrisburg (10AM, Irvis building, G50) for a hearing before the House Labor and Industry Committee looking at two important bills to make workplaces more fair for their women workers and more family-friendly. These are two of the Agenda for Women's Health bills. We'd like to see lots of supporters!
The Pregnant Workers Fairness Act (HB 1176) would require businesses to provide commonsense accommodations to pregnant workers such as restroom breaks, the ability for the worker to drink water, or take periodic rests if her job keeps her on her feet, assistance with manual labor tasks, if needed, and other minor adjustments, unless it places an undue hardship on the employer to do so. These kind of adjustments are routinely made for workers with a temporary disability. Pregnancy should be treated for what it is: temporary. Read PA NOW's written statement of support.
The Workplace Accommodations for Nursing Mothers Act (HB 1100) would require businesses to provide a private, sanitary space for nursing mothers to expel milk, and the ability to use either paid or unpaid break time, or both, to do it. It is a reasonable accommodation for employers to make, unless it places an undue hardship on them to do so, and it's the least businesses can do to help support their workers as they raise their families. Read PA NOW's written statement of support.
It's 2015 and women make up just shy of half the US workforce. Families rely on working mothers to survive financially. It's time to make sure that workplace policies are fair and family-friendly. Please ask your state representative to co-sponsor these bills, and voice your support for working women and families!
Find out more about these bills from this excellent guide at Women's Law Project, and more about the Campaign for Women's Health here.