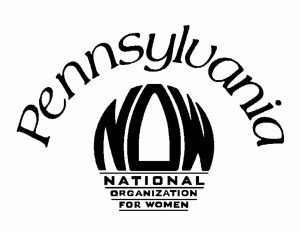 FOR IMMEDIATE RELEASE:
Pennsylvania NOW Supports the Agenda for Women's Health Phase 2 Bills
HARRISBURG, June 3, 2014- The Pennsylvania state chapter of the National Organization for Women (PA NOW) proudly supports the work of the bicameral, bipartisan Women's Health Caucus as they roll out a another round of bills as part of their comprehensive Pennsylvania Agenda for Women's Health designed to address the genuine needs and concerns of women in the Commonwealth. Taken as a whole, these bills proactively protect and promote women's well-being by addressing barriers to women's health, safety and economic security. Spearheaded by Representative Dan Frankel, Senator Judy Schwank and Senator Chuck McIlhinney in conjunction with the Women's Law Project, and then developed by a broad coalition of Pennsylvania advocacy organizations that work on behalf of women every day, it is based on years of experience about what women want and need to stay healthy.
"The War on Women has largely been waged by politicians enacting ideologically-driven laws that limit and obstruct women's access to both healthcare and economic security. The Agenda for Women's Health bills introduced today by members of the Women's Health Caucus directly challenge that harmful trend," said Caryn Hunt, President of Pennsylvania NOW. "Phase 2 bills, once enacted, will help struggling families find their way out of deep poverty by updating the Temporary Assistance for Needy Family (TANF) program to make it more effective; focus on the health needs of women who have served their country; protect all Pennsylvania workers from sexual harassment; and take partisan ideology out of the patient-doctor relationship."
"The women of Pennsylvania need – and now finally have – champions in the legislature who recognize that government must work for all of the people, women included. Pennsylvania NOW strongly supports this Agenda that puts the health and well-being of women and their families first," said Hunt.
"It's high time that doctors were supported in their right to refuse to provide medically inaccurate information," said Joanne Tosti-Vasey, President Emerita and Lobbyist for Pennsylvania NOW. "The increases to TANF cash assistance grant levels and the eligibility asset limit will encourage saving and financial independence. We're also glad to see sexual harassment protections extended to all workers, and see that female veteran's health concerns finally get the attention it deserves."
Pennsylvania NOW is pleased that the genuine needs and concerns of Pennsylvania women are being honestly addressed by representatives in the General Assembly, rather than constantly attacked and abridged.
Caryn Hunt
President, Pennsylvania NOW
814-280-8571
PennsylvaniaNOW@gmail.com

Joanne Tosti-Vasey
Lobbyist, Pennsylvania NOW
814-355-3056
nowwomyn@verizon.net
###
Pennsylvania NOW, Inc. | P. O. Box 4 Ft. Washington, PA 19034 | 814-280-8571 PennsylvaniaNOW.org | PennsylvaniaNOW@gmail.com