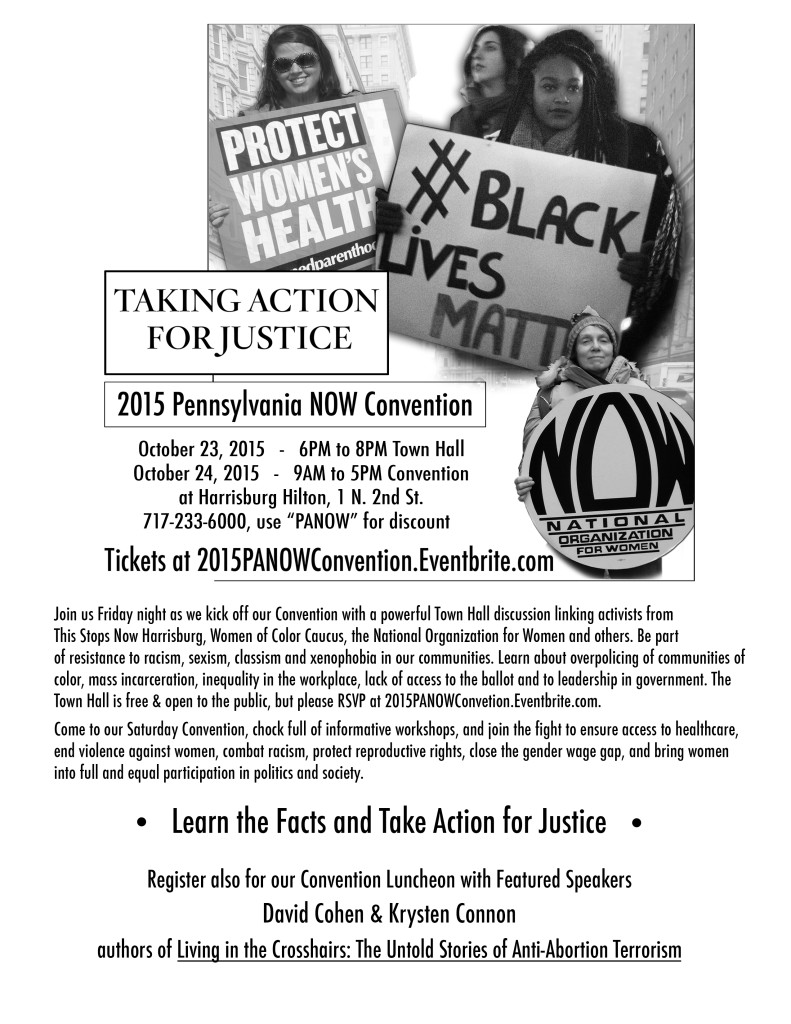 Get your tickets at 2015PANOWConvention.Eventbrite.com
Convention Program here.
Download the flyer here. Please help us spread the word!
Download the ad rate sheet here (prices rise Oct 15; cutoff Oct 18).
Download the press release here.
2015 Pennsylvania NOW Convention Schedule

6:00 – 8:00PM FRIDAY NIGHT TOWN HALL – The Intersection of Sexism & Racism
9AM – 5PM SATURDAY CONVENTION/WORKSHOPS
8:30 – noon Registration/Credentialing
9:15 – 10:15AM Opening Plenary –
Welcome
Randi Teplitz, Chair, PA Commission for Women
Welcome/Introduction Officer Slate
Mary Nancarrow, Elections Committee Chair & former PA NOW President
10:30 – 11:45AM FIRST SESSION to include 3 panels
12 noon – 1:00PM Lunch with Guest Speakers David S. Cohen & Krysten Connon, authors of Living in the Crosshairs: The Untold Stories of Anti-Abortion Terrorism (tickets are additional)
1:15 – 2:30PM SECOND SESSION to include 3 panels
2:45 – 4:00PM THIRD SESSION to include 3 panels
4:15 – 4:45PM Closing Plenary –
Sari Stevens, Executive Director, Planned Parenthood PA Advocates
Elections Results/Closing Remarks
Panels:
See the Program here.
FIRST BREAKOUT SESSION
How to Make Sense of Your Dollars
The Historic War on Women
The Gender of Poverty
SECOND BREAKOUT SESSION
Advancing the Legislative Agenda for Women's Health
Not Just Dutch Anymore: Immigrant Women Shaping PA
Confronting Violence Against Women
THIRD BREAKOUT SESSION
Black Lives Matter Movement
From Cecile to Hillary: Women's Voices in Politics
Ending the Gender Pay Gap