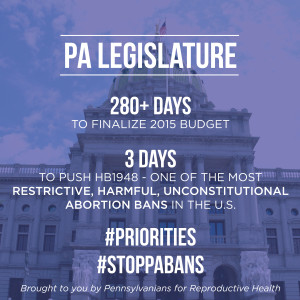 Your voice is urgently needed!! Tell your state lawmakers to oppose HB 1948, the 20-week ban! Monday, April 4th, extremist GOP lawmakers in Pennsylvania's House slammed a 20-week abortion ban bill through the House Health Committee; the bill was first introduced on Friday, April 1st. Those on the Republican-majority committee who supported the bill refused calls for a public hearing. It is now set to come up for final consideration sometime this week. So register your opposition with your lawmakers now! You can find their contact info here:  http://tinyurl.com/75gbxvc
This is yet another legislative effort to erect barriers to women's access to abortion care in the state. 20-week abortion bans are extreme attempts by conservative lawmakers to inject their religious beliefs into the doctor-patient relationship, and to impose upon the private medical decisions of women and families. These are the same politicians who won't fund education, or child care, or family planning, or sex education, or even pass bills for pregnancy and breastfeeding accommodations for working mothers.
Forcing women to carry to term unwanted pregnancies is an extremist position. Let your lawmakers in Harrisburg know you want them to vote NO on HB 1948 and stop the 20-week ban!
The 20-week ban introduced by Rep. Kathy Rapp would also dictate what medical procedures doctors can and can't use for abortion, without regard to the safety of women. The language of the bill is sensationalist and gruesome, meant to further stigmatize abortion care, which is part of a continuum of reproductive healthcare essential to women. Contrary to Republican talking points, although only 2% of all abortion are performed after 21 weeks, these restrictions would also greatly impact women seeking abortion during the first trimester. Most essentially, it seeks to substitute the religious beliefs of a politician for the medical advice of a doctor and it jeopardizes women's lives.
CONTACT YOUR STATE LAWMAKERS AND TELL THEM TO OPPOSE HB 1948, THE 20-WEEK ABORTION BAN! Planned Parenthood has a petition you can sign: bit.ly/1V51WWb 
ALSO SIGN THE KEYSTONE PROGRESS PETITION: http://act.keystoneprogress.org/sign/stop-20-week-abortion-ban/?t=1&akid=2181.471911._U3pr-
Please help pass the word!
Update 4-11: Governor Wolf and Planned Parenthood president Cecile Richards held a press conference today, joined by lawmakers and feminist advocates opposed to HB 1948. Vote on HB 1948 postponed. It could come up tomorrow or the next day, so keep up the pressure!
Update 4-7: HB 1948 headed for final consideration on Monday 4-11.
Update 4-4: Voted out of the Health Committee on Monday 4-4, 72 hours after being introduced on Friday.
Additional coverage:
https://rewire.news/article/2016/04/05/pennsylvania-republicans-fast-track-anti-choice-bill/
http://www.pahouse.com/Frankel/InTheNews/NewsRelease/?id=74470
http://www.pennlive.com/opinion/2016/04/the_crass_political_opportunis.html
http://www.thedailybeast.com/articles/2016/03/31/texas-forced-this-woman-to-deliver-a-stillborn-baby.html
http://www.philly.com/philly/blogs/healthcare/Pa-physician-general-Abortion-bill-punishes-women.html